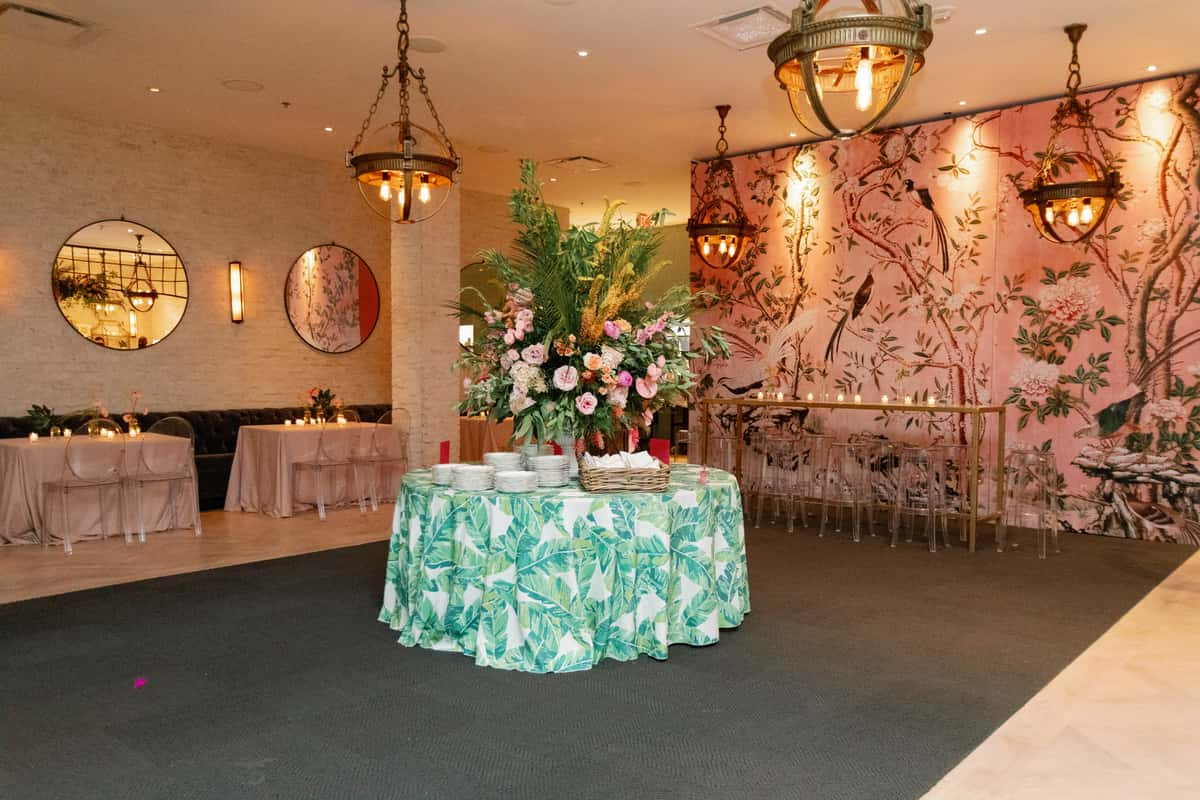 Tips for Making Your Event More Accessible
Tips for Making Your Event More Accessible
How To Choose a Modern, Accessible Venue for Your Next Event
When hosting an event, it's easy to get overwhelmed. Whether it's a birthday bash, business conference, or any other private party you're hosting for an intimate gathering of 10 people or a large crowd of 100, the checklist in your head can understandably feel like it will never end. Don't worry though, we're here to break it down for you so you can choose the best modern and accessible venue for your next event.
The Importance of Accessibility and Inclusivity in Events
Throwing the perfect event isn't always easy, but it definitely is possible! First and foremost, organizers should prioritize the happiness and safety of their guests, all of whom have the right to feel welcome. Inclusivity starts with all aspects of the event being accessible to everyone attending: this is the foundation of a well-planned event. When you ensure that all your attendees can safely participate, you create a wonderful experience for everyone.
What is Accessibility?
According to the Americans With Disabilities Act, a disability refers to a mental or physical impairment that substantially limits an individual's life activities. About 53 million people in the United States live with a disability (or one in five American adults).
Taking into account persons with disabilities or special needs, you'll need to design an event that allows members of this demographic to have a good time too. By not taking a proactive approach toward inclusion and accessibility, you set others back and risk making people with disabilities feel excluded.
The good news is it's not hard to factor in those with disabilities if you plan ahead. One aspect is considering ease of access so that participants can spend their energy on having a good time, not dealing with hassles. Plus, this makes it easier for organizers to avoid spur-of-the-moment changes.
Whether you're planning an event for hundreds of people, a work meeting, or a personal gathering, accessibility should always be a top priority. Last-minute accommodations can be time-consuming, frenzied, and costly, so planning an inclusive event right from the start is always the best option.
Accessibility Checklist
A successful event starts with pre-planning and forethought and continues throughout the event. One of the most important must-haves is the ability to enter or exit a venue with ease. No one wants to search for parking or struggle locating the entrance. By keeping all your attendees in mind during preparations, you will be better able to support their needs as they occur. Use our handy checklist!
Check Entrances and Exits
Venues should feature curb level access or alternate entrances (if wheelchair ramps are not available, temporary ramps can be used). Doorways should be wide enough to accommodate wheelchairs or scooters — typically 32 inches as regulated for proper accommodation. As beautiful as revolving doors can be, these would not be appropriate as a sole form of entry, but adjacent doors can be opened and left propped open for entering or exiting.
Consider the following:
Are the entrances clearly visible and labeled?

Are they accessible?

Is there a ramp that is clearly labeled?

Are the doors sufficiently wide enough (32 inches for wheelchairs)?

Are the doors heavy and difficult to open? Do they have round doorknobs or will they be automatic?

Are ramps steep? Do they have handrails?

Are there turnstiles?
If you plan to dine al fresco (outside), make sure you consider space to navigate, availability of chairs and tables, possible obstacles, and any potential weather hazards.
Check Bathroom Accommodations
Is your bathroom ADA compliant? It may seem obvious, but it is essential to check before the event starts. All commercial buildings have bathrooms and are covered by the ADA — people with disabilities should enjoy their dining experience without having to worry about basic needs. Examples of ADA compliance include clear pathways and doorways with enough width to accommodate wheelchairs and scooters, grab bars and ramps, and more.
Being ADA compliant makes your event and venue more accessible to a broad customer base, including:
The elderly

The disabled community

Those healing from injuries

Parents with young children

Heavy-set customers
Consider the following:
Are bathroom accommodations clearly identified and easy to find?

Are bathrooms easy to enter?

Are gender neutral toilets available?

Is there a place where parents can change their children's diapers?

Is there a 60" x 60" handicap stall?

Are doors at least 36" wide to accommodate wheelchairs?

Is there space for a wheelchair to turn 180 degrees?

Is there at least one sink that is ADA compliant?

Are there grab bars or ramps?
Check Parking Availability
Every venue and event should ensure that there is handicap accessible parking for anyone with mobility impairments and those who cannot walk long distances, like seniors or injured attendees.
Consider the following:
Are disabled parking spaces clearly labeled and easy to access?

Are there parking bays close to the entrance?

Are those with mobility impairments or other needs accommodated?
Review the Menu
Eating out is a popular American pastime, but some people need to be more cautious than others. Food allergies must be taken into consideration when planning an event. It's strongly recommended you always review the menu well in advance. For example, with events from Berg Hospitality, reviewing the Annie Café & Bar menu ahead of time can help ensure the comfort and safety of all guests.
To be as prepared as possible, it's always a good idea to communicate with the restaurant staff and event planner. Food allergies can hide in unexpected places, so attendees should be able to clearly express their dietary needs either before or upon arrival.
Consider the following:
Does the menu accommodate the dietary requirements of attendees?

Is information regarding each course and the ingredients available for those with food allergies?

Is the staff prepared to acknowledge and discuss food allergies?

Is the kitchen prepared to accommodate a food-allergic order?

Are there allergy-safe kitchen safeguards, such as separate pots and pans, color-coded cutting boards, and other preventative measures taken?
Pick the Location Strategically
Location is an extremely essential component to an ADA compliant event. Not everyone drives a car, so if the venue is located far away from public transport you reduce the accessibility of your event. To plan out a truly accessible event, take into consideration rising gas prices, surging Uber/Lyft costs, and travel time that can deter many guests. Picking a central location within the city that isn't remote is usually a wise option, as is having accessible ramps and entrances, clear sidewalks and pathways, and so forth.
Discuss Preferences with Attendees
At Houston's legendary Annie Café & Bar, our staff values open and translucent communication with our guests so we can better accommodate their needs. If attendees need special attention – such as accessible table seating, dietary restrictions, and service animals – they are encouraged to let the staff know before or during an event. It is strongly recommended you check with the event venue you are considering to make sure they have these same inclusive offerings.
Work With Staff to Provide Accommodations
It's also essential that event planners and managers communicate any special needs with the staff before the event. This allows them to be prepared and not rush to accommodate needs. If a need does come up during the event, staff can help arrange help. Everyone in attendance should feel safe and secure to request help at any time, no matter how big or small.
Rent Out the Entire Space
Larger groups can rent out the entire space to tailor the venue to their every need. Trust us when we say that numerous venues offer this premier option to potential party planners. At somewhere like the Annie Café & Bar, this means you and your guests can enjoy the entire vibrant and luxurious atmosphere with all the special accommodations you could ever ask for. Enjoy a private and exclusive evening specially tailored to your group by first finding out more about
full restaurant buyouts
.