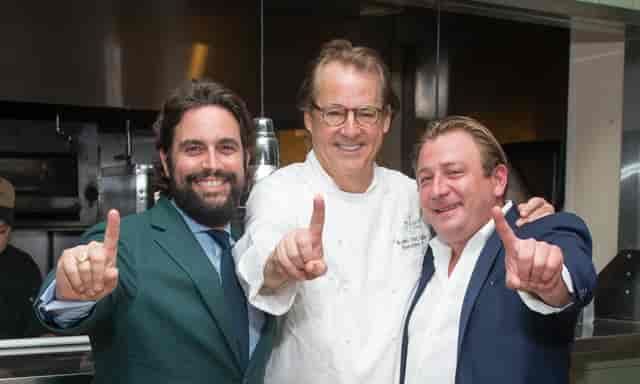 About
Our Story
Located at 1800 Post Oak Blvd. in the heart of the Galleria area, The Annie Café & Bar offers a fresh take on Texas-influenced American cuisine by award-winning Executive Chef Robert Del Grande. The latest concept from Houston-based Berg Hospitality Group and restaurateur Benjamin Berg, the revamped legendary restaurant provides Houstonians with a well-rounded, approachable menu in a vibrant, sophisticated atmosphere.
Meet Our Team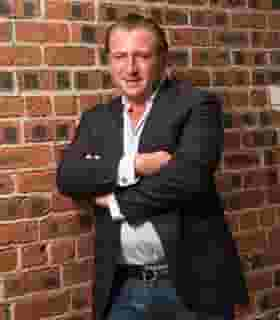 Founder & CEO

Born in New York City, Berg has been in the hospitality business for over 19 years working for upscale hotels and steakhouses in key markets including Las Vegas, Mexico City and his hometown. 

In June 2015, Benjamin Berg opened his first concept, B&B Butchers & Restaurant, an upscale steakhouse and traditional butcher shop on Washington Avenue, to rave reviews from critics, celebrities and Houstonians. After successfully opening a second location of B&B Butchers & Restaurant in Fort Worth, Texas in January 2018, he formed Berg Hospitality Group, which conceives, launches and operates restaurants in Texas with a commitment to giving back to the local communities. Around the same time, he purchased Carmelo's Ristorante Italiano, a traditional, family-owned and operated restaurant located in Houston's Energy Corridor since 1981. After closing for renovations, Berg reopened the space as two new concepts, B.B. Italia Kitchen & Bar and B.B. Pizza To Go, which serve fresh, Italian-American food in an approachable, neighborhood setting with first-class service. The budding culinary group is also responsible for creating B.B. Lemon, an elevated eatery and bar serving classic, straightforward food and cocktails, which opened in November 2018 across the street from B&B Butchers & Restaurant in Houston. In May 2019, Berg Hospitality Group announced its plans to revamp the legendary restaurant, Cafe Annie, through a new partnership with James Beard award-winning Chef Robert Del Grande. The reimagined restaurant reopened as The Annie Café & Bar in September 2019, offering a fresh take on Texas-influenced American cuisine with a well-rounded, approachable menu in a vibrant, sophisticated atmosphere. Turner's, the latest concept from Berg and Del Grande which opened underneath The Annie in March 2020, is an exclusive dining and social establishment with old-world charm and service offering a blend of timeless American and continental dishes.

With a true passion for the hospitality industry, all of Berg's concepts focus on offering excellent service, unique atmospheres and unparalleled experiences for their guests while also giving back to the local community. All the restaurants have given countless in-kind donations to various Houston and Fort Worth charities by hosting fundraising events, donating food and staff for charity events and gift certificates for raffles and silent and live auctions. B&B Butchers & Restaurant has participated in Houston Restaurant Weeks every year since opening and has been the number one donor to the Houston Food Bank for the past three years. Berg, who has rightfully distinguished himself as a philanthropic leader in Houston, founded his annual "First Responder Appreciation Week" in 2017 after Hurricane Harvey. Offered at all the restaurants the week after Labor Day, all on duty First Responders receive a complimentary three-course meal during lunch and dinner. He also currently serves on the board of directors for the Greater Houston Restaurant Association and Cherish Our Children Inc. 

Prior to his career in restaurants, Berg worked for two luxury hotels, The Point, which was voted the number one small hotel in the country at the time, and Lake Placid Lodge. He began as a bellman and worked his way up, learning every detail of the different facets of the hospitality business. He brings this same, service-oriented mindset to his restaurants. Berg received a Master of Hospitality Management from Cornell University and a B.A. in Art History from Tulane University.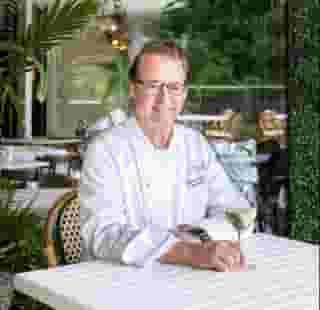 Executive Chef & Partner

Robert Del Grande, the executive chef and partner of The Annie, is widely recognized as one of the most celebrated chefs in America as having pioneered and developed Houston's culinary scene.

He is a near 40-year industry veteran and has been recognized time and time again with prestigious industry awards and honors from top organizations including:

-James Beard Foundation "Best Chef: Southwest"
-Food Arts "Silver Spoon Award"
-Houston Culinary Awards "Chef of the Year"
-Food & Wine "Honor Roll of American Chefs"
-One of the Best Things to Eat in Houston "ChefsFeed Winner"
-"Distinguished Alumni Award" from the University of California at Riverside
-Inducted into the "Who's Who in American Cooking"

Originally having received his BS in Chemistry and Biology from the University of San Francisco in 1976 and then his PhD in Biochemistry from the University of California at Riverside in 1980, Robert pivoted career paths while courting his now wife, Mimi. Robert ventured to Houston with Mimi to visit her sister and brother-in-law, who had opened Café Annie two years earlier. Needing a chef for their restaurant, Robert began experimenting in the kitchen and soon became Executive Chef and partner.

In May 2009, Café Annie closed and reopened as "Restaurant RDG" (the initials of the chef) a few blocks away. Robert and his brother-in-law, Lonnie Schiller, are partners in the Schiller-Del Grande Restaurant Group, which operates The Grove and The Lake House – two restaurants located at Discovery Green, the signature urban park in downtown Houston. In addition, they have been founders and partners in other ventures, such as Café Express and Taco Milagro.

In addition to restaurants, Robert has also done ideation and food concept work for several national restaurant chains and other food groups. He is also a founding partner in the ROXOR Artisan Spirits Company where, using his knowledge of the laboratory sciences, he developed the intricate formula for ROXOR Gin.

A true Renaissance man, he also finds time to play in his band "The Barbwires" with Dallas Great Chef Dean Fearing. In 2013, Robert was also named "One of the Coolest People in Food" by The Daily Meal.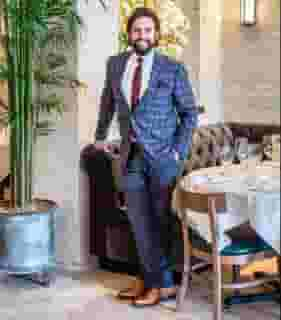 Operating Partner

A Houston native and hospitality industry veteran, Sam Governale's story is one of two decades of passion, dedication and achievement. Sam has had a love affair with food and service from an early age, having grown up in a large Italian family that valued tradition and celebrated everyday life with memorable dining experiences. He adds tremendous value as Operating Partner of The Annie drawing on a honed skill-set developed at some of the nation's top restaurants.

Sam spent seven years in New York City studying under renowned wine and spirits consultant Steve Olsen and Master Sommelier Andrea Immer. Immersing himself in his trade, Sam was selected to the tasting panel for Wine & Spirits Magazine and gleaned knowledge from his travels to Italy, Spain, Germany and France. He spent six years working alongside James Beard-nominated Chef and Restaurateur Matthew Kenney, developing beverage programs for all his concepts, and served as Director of Openings for acclaimed restaurants Monzu, Matthew's, Canteen, Commune New York, Commissary Maine, Commissary New York and Commune in Atlanta. Sam's extensive background also spans elite restaurants including Babbo with Chef Mario Batali, 13 Barrow St with Chef John Tesar, Mirezi with Chef Anita Lo and overseeing the development of numerous wine programs across the country as a top-tier sommelier.

In 2002, Sam settled in Atlanta, where he was instrumental in creating over a half a dozen award-winning wine programs for high-profile restaurant concepts. Serving as General Manager and Beverage Director, Sam managed MidCity Cuisine's impressive, regionally-driven and award-winning wine list (Best Wine List – Critic's Choice, Creative Loafing and Wine Spectator Award of Excellence). Under his supervision, MidCity Cuisine earned Atlanta Magazine's "Restaurant of the Year" award and was featured in Gourmet's Guide to America's Best Restaurants. During his tenure in Atlanta, he was recognized by the food and wine community as a "top notch sommelier" (ZAGAT Survey), quoted in InStyle Magazine and noted in Food & Wine Magazine. Sam later established a start-up wine consulting firm, WineDoor, acting as a Fine Wine Analyst and Private Collections' Consultant assisting both collectors and Las Vegas Sommeliers in acquiring fine and rare wines. In addition, he assisted several wineries and winemakers in marketing and evolving their brand's identity.

In 2009, Sam moved back to Houston to be the Operating Partner of the River Oaks location of Fleming's Prime Steakhouse & Wine Bar, where he successfully ran it for seven years. Prior to the launch of The Annie, Sam founded DOCG Interests, LLC, a Houston-based full-service restaurant consulting business for which he serves as Executive Officer, and became an owner and partner of Emmaline, a stylish neighborhood eatery serving modern American & European cuisine. In addition to being Operating Partner at The Annie, Sam will continue his role at Emmaline while continuing to develop and manage new concepts under the DOCG entity.

Before he set off on a career in hospitality, Sam initially studied psychology, philosophy and neurobiology and was published for his work as a protein chemist in a New York University Hospital laboratory focused on Alzheimer's Disease. It was during this time that Sam honed his philanthropic and altruistic spirit that began with his late father, a renowned local surgeon. Currently, he serves on the board for Candlelighters Children's Cancer Alliance and the Leukemia Lymphoma Society's Gulf Coast Chapter. He is also a committeeman (Grand Entry) for the Houston Livestock Show and Rodeo, and in 2014, Sam was the runner-up in raising funds for LLS as a candidate for their Man of the Year Campaign. He regularly competes in Houston's Iron Sommelier Competition, which benefits The Periwinkle Foundation.

An avid traveler, foodie and sports fan, Sam is also a devoted family man to his lovely wife Tina and their two Shih Tzus.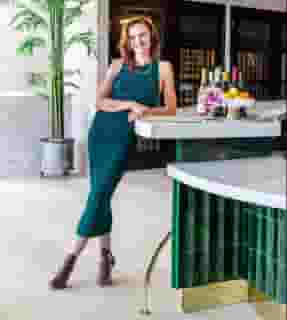 Sommelier

With over a decade of industry experience at some of Houston's finest restaurants and an incredible education in the field, Bridget Paliwoda brings extensive knowledge to The Annie as sommelier.

Bridget began her restaurant career during her time at the University of Saint Thomas in Houston where she earned a degree in Biology. Following her true passion, she continued in the food industry and had the opportunity to work with well-known Houston chefs including Chef Erin Smith of Plonk! and Chefs Seth Siegel-Gardner and Terrance Gallivan of The Pass & Provisions. Before joining the Berg Hospitality team, Bridget honed her skills as Sommelier of Theodore Rex and Floor Sommelier of Oxheart.

Bridget is certified from top organizations including the Court of Master Sommeliers, John Gauntner for Sake certification and the Cicerone Court for beer serving. A true wine lover, Bridget's passion is reflected both in her personal and industry life. She is an active member in a number of organizations including TEXSOM, TIWA, Court of Master Sommeliers, HSA and IronSomm. In her free time, Bridget also enjoys sewing and garment construction, cycling and gardening.
Berg Hospitality Group
Based in Houston, Berg Hospitality Group conceives, launches and operates restaurants in Texas with a commitment to giving back to the local communities.

Founded by restaurateur, Benjamin Berg, the budding culinary group is responsible for creating B&B Butchers & Restaurant in Houston and Fort Worth, B.B. Italia Kitchen & Bar and B.B. Pizza, B.B. Lemon, The Annie Café & Bar and Turner's.

With a true passion for the hospitality industry, all of Berg's restaurants focus on offering excellent service, unique atmospheres and unparalleled experiences for their guests. For more information, visit: www.berghospitality.com. Follow us on social media: @berghospitality